So much has been happening recently that in order to keep you all up to date I am publishing a diary of recent events.
6th September
The Three Chairs Harry Hall (CRERA), Jill Preston (CREst) and Mike D'Souza (One Norbiton) met with Regeneration CEO, Marcus Carling and local political leaders to discuss the progress. Later the same day they meet Tom Copley from the GLA to get advice from him about securing the maximum number of Social houses in the project.
13th September
Jill and Mike attended the final meeting of the local committee chaired RBK's Neville Rainford to help manage Street Drinking. This approach of uniting the police, community groups, statutory bodies including addiction experts was generally considered to have been a success by all and complaints etc. have been considerably reduced.
26th September
There has been general distrust with RBK's approach to Regeneration and particularly with their proposals for how residents' appeals will handled during the rebuild. Therefore the Three Chairs organised a call-in of the decision, made to implement this in the Growth committee chaired by Cllr Cathy Roberts
27th September
Jill and Mike attended a meeting of Hall Users called by RBK senior Resident Participation Officers, Simon Godfrey and Nina Baruch. This presented revised charges for use of RBK's Halls. There was some disquiet that unlike last year Piper Hall was not being made available for giving the Homeless a Christmas meal.
October 2nd
Jill assisted Cambridge Gardens residents to form their own group to represent their independent interests now that RBK have announced have proposed that they will be doing in-fill development in their Estate.
October 11th
The Three Chairs go to see the new Student "VitBe" building. This is very plush but we learned that some of our local lads had been pelting it with eggs. We promised to do what we could to stop this.
October 14th
CREst and One Norbiton supported a very successful Family Learning day See Photo below.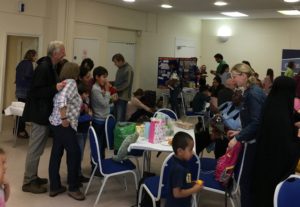 October 16 th
One Norbiton Directors met to discuss the legal and other aspects of accepting RBK's restrictive terms for a one-year lease on the Hub. We are a bit bemused as to why our request to do minimal building changes and agree to a peppercorn lease is requiring expensive legal costs when the first issue of the Decant policy that affected thousands of residents was not even shown to lawyers. We have asked RBK for an explanation.
October 17 th
The Three Chairs attend the full Council meeting to witness their Call-in being accepted and referred to a Task and Finish sub-committee.
October 24 th
CREst and One Norbiton supported another very successful Half- Term Horrors event for the local under tens. See photo
October 26th
With the help of the Labour party, the Three Chairs met James Murray, Deputy Major of London for Housing, to discuss how the Mayor's office might be able to protect the rights of those on the Estates during Regeneration. See the Photo I took of the meeting below.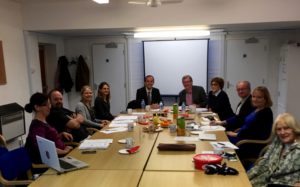 From left to right. Vanessa Palmer (Vice-Chair CRERA) Harry Hall (Chair CRERA) Sian Berry (Green Party) Lucy Owen (Head of London Housing) James Murray (Deputy Mayor of London) Laurie South (Labour PPC) Cllr Linsey Cottington Cllr Bill Brisbane Jill Preston (Chair CREst) Cllr Sheila Griffin